Multan is the heart of Southern Punjab that harbors the resting place of well-known saints. God has crowned it as the 7th biggest city in Pakistan. A sight to soothe the eyes is the immersion of Multan with Chenab. The sun soars above the horizon and scatters scorching heat throughout the summers. This surely spoils the warmth of mood and people may fall at the mercy of blazing days but winters gift moments of respite to summer-torn natives of Multan. A day in Multan seems to be exciting if you wish for wanderlust. A day in Multan sets the pedestal for ravishing visions: deliciously elegant cafes, exquisite entertainment parks, and nostalgic funerary monuments. Soon after the day sets, Multan becomes an emblem of starry nights, silent streets, shimmering shrines, and beautiful grounds.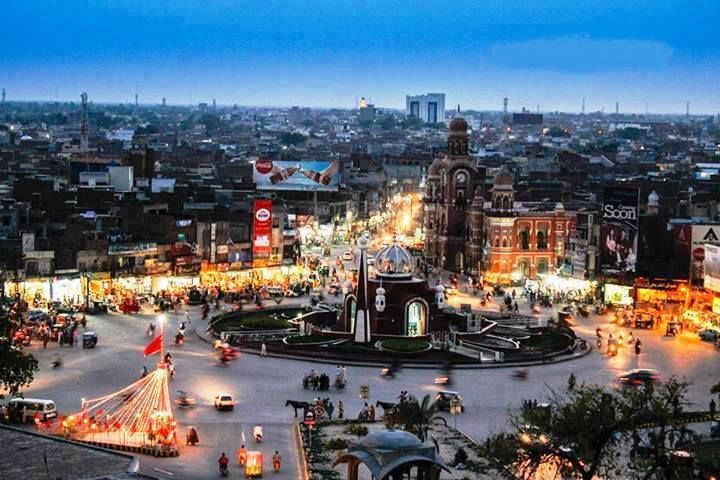 Source: www.pinterest.com
Saintly aura shades the boiling atmosphere of Multan. The glazed Blue tiles of Bahuddin Zakrya's shrine will spur you to take a flight back to the 13th century. Ever seen an unusually majestic entrance? The entrance of the shrine is definitely for you as it speaks for its grandeur. With a curved arc and slender edges, the exquisite smell of sandal gate welcomes strangers wholeheartedly. A mosque with engravings of "There is no God but Allah" refreshes the spirit of Islam in every visitor. The shrine is adorned with red bricks all around linking it with the architectural history of the subcontinent. Now let's have a peek inside. The interior of the shrine is layered with a coat of cream color. Its velvety texture is definitely a pleasing experience for fingers. You would have glanced at intricate calligraphic designs that compel the visitor to reflect upon the mastery of artists. You will find many graves in the nearby area. Striking right in the heart of emotions, these graves will let you feel "what matters is companionship, in life or after death." Finally, you step at the helm of Hazrat Zakrya's grave. The room bears enormous soul-softening silence, gloomy yet subtle lighting, enchanting scent of Oud, and calmness. All of this grabs your senses and you feel lightheaded and lighthearted. You come to believe that Sakoon (comfort) exists. Yes, it exists!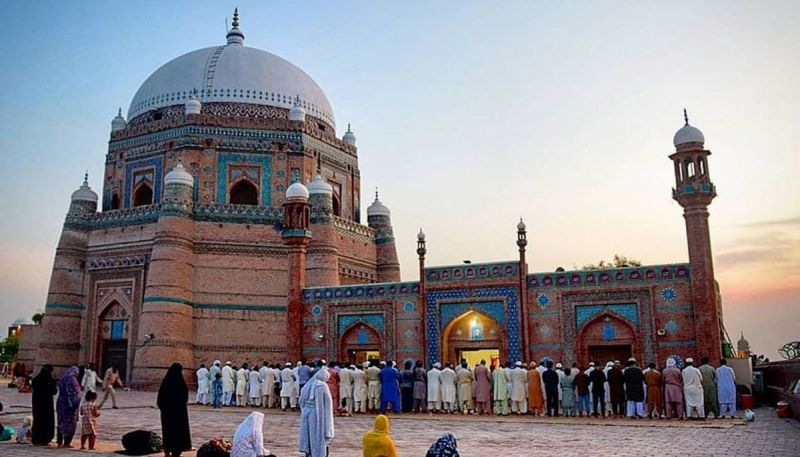 Source: en.dailypakistan.com.pk
Shah Shams Tabraiz is another famous saint whose multi-colored tomb attracts a significant number of tourists. Besides, once a year, local people arrange a festival that enlivens the aura of the place. It also shares a prime location on the bank of Ravi so you can have two in one treat.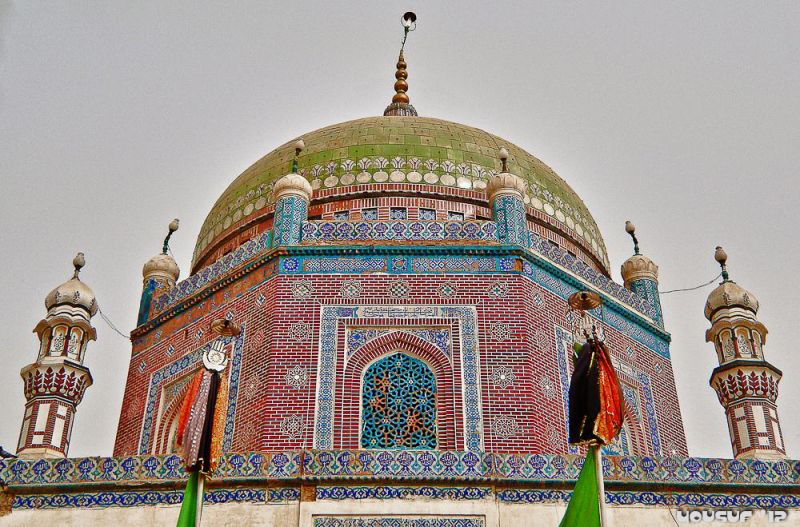 Source: yousufbawany.com
Another marvel of Sufi tradition is Shah rukn e Alam's tomb which is well known for qawali nights and mass gatherings in the courtyard to celebrate Sufism. It equally holds the delicate and marvelous old-fashioned architecture same as its neighbor - Shah rukn e Alam.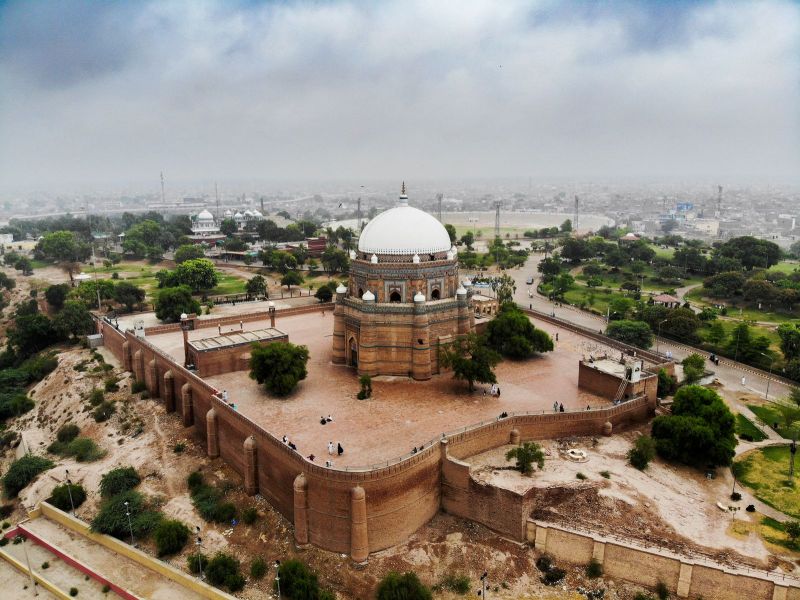 Source: commons.wikimedia.org
Gradez Mausoleum stands away, in the silence, all covered in mosaic, marble, and red bricks. Above all, the beauty of the tomb lies in the appeal of glimmering turquoise tiles that immediately grab you in a spell. There is a box-sized crypt for the pigeons to flock and fly.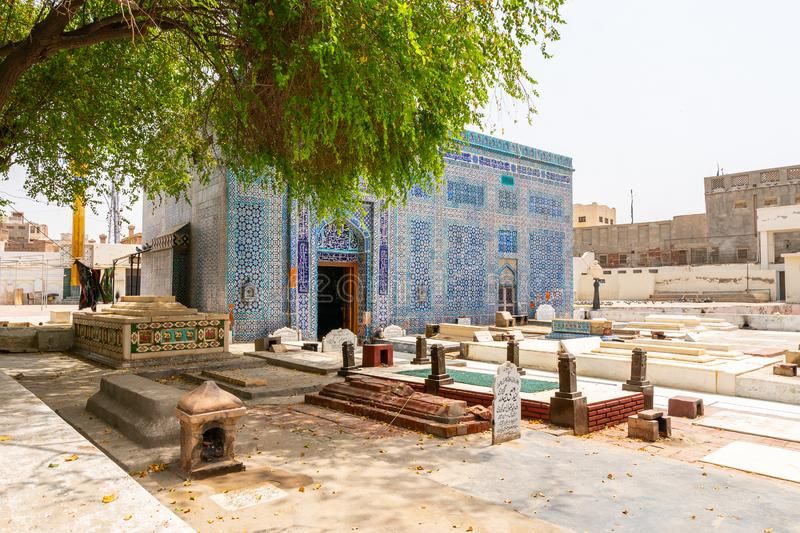 Source: www.dreamstime.com:
Kohna fort is another major tourist attraction with all of its Barud Khanas and Gunneries. But, today this place offers a skyline view of the city. There is a bonus of Shah rukn e Alam's tomb in the background for those who are fond of photography.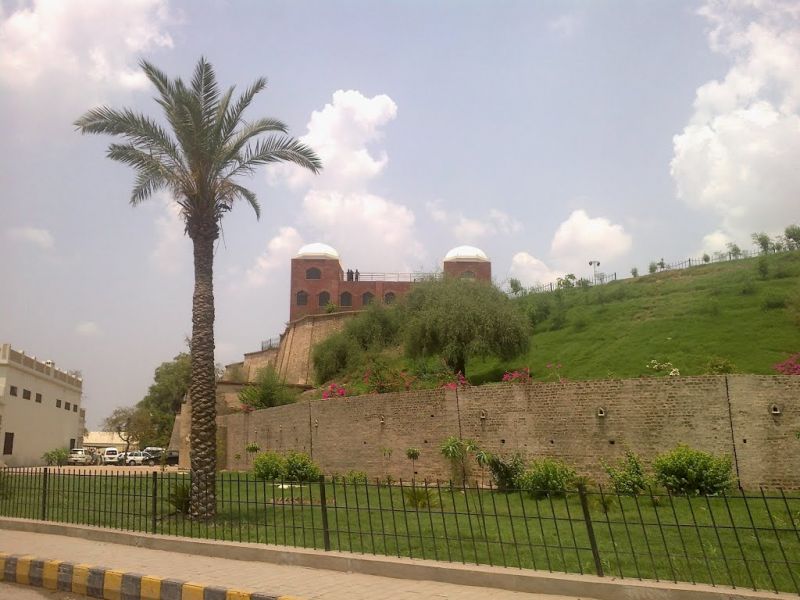 Source: mapio.net
What does it feel like to be the center of attention? It feels awesome, right? Ghanta Ghar of Multan is a lucky historical remain that is loved and adored by every native and visitor. People come and they go and Ghanta Ghar keeps spelling its charms over their minds. You will look at it and feel that it knows you since you were born. For a while, you will find an escape from reality. Ever you think that you cannot face the burdensome life then it is a request that you must visit Ghanta Ghar. This is just not a building. It is a living memoir and you are its reader. I can bet that you would have never come across such a piece of heritage. You will feel alive at the sight of Ghanta Ghar. You will see that time passes on, time injures everyone, and victors are always those who never leave their place like Ghanta Ghar.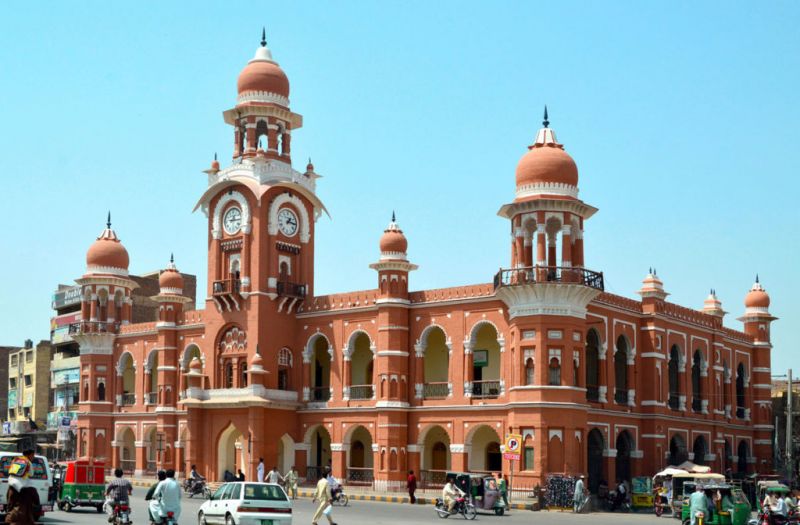 Source: multan.punjab.gov.pk
Head Muhammad Wala offers you sunrises and sunsets of its kind. At the bank of Chenab, you will see the rippling tides and serenity that come along with it. Here, your gaze will be lost in the horizon and such horizons are seldom seen. Chenab flows here in its full swing and captivates the visitor to have a swim. The bridge over Chenab gives you a ravishing view of your surroundings. You will love the birds dancing over the river surface and fish jumping in and out of the river. We closed our eyes and listened to the sound of waves. This experience was something extraordinary. We have been to urban rivers but Multan's Chenab is as saintly as its atmosphere. Boating here is like no other place, and it's always better to choose the time near sunsets to enjoy the moments. Hi there.